South Florida Water and Mold Restoration, Inc
about fixing your problem and minimizing your stress.
Owners: Lisa Cozzi and Pat Caiazza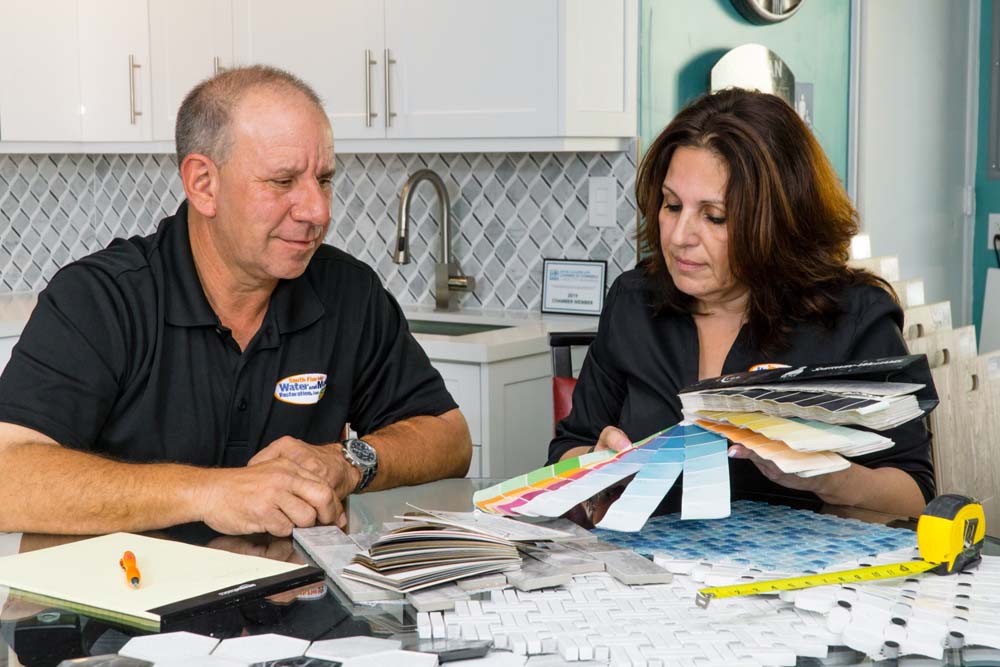 Together owners Pat Caiazza and Lisa Cozzi have 30 years experience in water and mold restoration, construction and insurance consulting. Consequently, they know how to remove mold in the safest way possible. Additionally, they decided to build a business that reflects their core values. Such as, accountability, responsibility and great customer service.
Pat got started in the carpet cleaning business. As a result,  he saw plenty of homes and commercial buildings with water damage. For that reason, he decided to study the art of water damage science and how to remove mold. As a result, he became certified by the IICRC. The IICRC is the most widely recognized and accepted certification program.
His next step was to tackle another issue that comes with water damage, mold. For that reason, Pat furthered his education in restoration by studying mold remediation. As a result, he earned his certification. This certification in how to safely remove mold was also from the IICRC. Plus, he is licensed by the state of Florida as a Mold Remediator.
Lisa attended the University of Florida and graduated from Florida Atlantic University. She received a Bachelor's degree in Business. She began working for insurance companies. As a result, she quickly learned all of the ins and outs of the insurance process. She decided to become a State Licensed Certified General Contractor because she was working on a lot of bonded construction projects. Additionally, she felt this would enhance her experience. Not to mention, it would give her an additional boost of credibility. In fact, she has been licensed since the year 2000. When she met Pat, she was running her own insurance consulting business.
It's All About Teamwork
Joining Pat was a natural fit. Lisa brought her mix of administrative expertise and contractor knowledge. Plus, she later went on to become IICRC certified. In fact, she's certified in both water damage and fire damage restoration.
Together they are dedicated to providing quality customer service.
Our goal is to guide our clients through a very stressful, and very confusing process.  People need to have their homes and businesses restored. People  feel comfortable having experts like us to help with water damage or mold.
Through our years of combined experience we know that property damage is unique. Plus, no one is ever prepared for it. Additionally, it is not just physical damage people have to deal with. For example, it creates a big disruption in your family's life or your business' routine. Consequently, our goal is getting your life back on track and returned to normal as quickly as possible.
We do this by educating our clients so they understand the scope and extent of the damage is that has occurred. Plus, we give them some options to work with. Lastly, we itemize the cost of repairs.
Having worked for insurance companies, we understand the insurance game. Therefore, we are able to get your claim processed faster. As a result, we can move on with business of restoring your home or business. We will get everything back to its beautiful, pre-loss condition or even better. Additionally, we work hard to save you money.
We are on your side; we are dedicated to getting you through this. Learn more about mold remediation.
What do they say about us?