What To Expect During Your Mold Remediation Project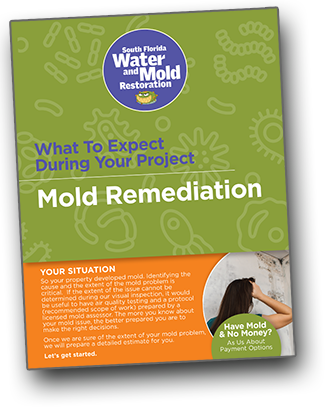 All Your Mold Remediation Question Answered By Experts.

Get your copy of this valuable resource instantly.
Your Mold Removal Questions Answered BY EXPERTS
Your property has developed mold
Identifying the cause and the extent of the mold problem is critical
An air quality test and recommended scope of work is needed from a licensed mold assessor. 
The more you know about your mold issue, the better prepared you are to make the right decisions. 
Once we are sure of the extent of your mold problem, we will prepare a detailed estimate for you.
See below for our complete step-by-step process on how we will eradicate toxic mold from your property and rebuild it to pre-mold issue condition, or better.
Mold Remediation – Phase I
WHAT TO DO BEFORE WE GET THERE:

Don't Touch Mold. It can cause skin rashes and spread easily to another area without proper containment.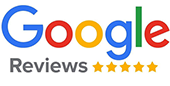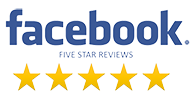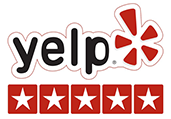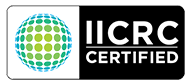 Plan to relocate your valuables, fabric items, paperwork etc. as you will not have access to the containment or work area during the remediation.

Don't use bleach for mold removal – it will change the color of the mold to a clear and/or white shade and could create an environment for mold to continue to grow.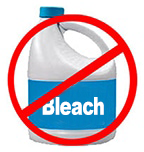 If you have allergies or sensitivities to chemicals, please let us know in advance.
YOUR MOLD REMEDIATION PROJECT
Each mold damage situation is unique and requires its own customized plan. While mold remediation typically takes 4 to 7 working days with a clearance test included, your timeline may vary based on the extent and complexity of your project.
SCHEDULE YOUR FREE INSPECTION
We are always here for your questions and concerns.
1. The HVAC ducts will be sealed inside the containment area and possibly the entire HVAC system will be turned off if mold has affected a larger area
2. The dehumidifiers will run continuously to reduce the humidity while the HVAC is off.
Mold Remediation – Phase II
CONTAINMENT OF THE AFFECTED AREA

PREVENT CROSS CONTAMINATION: The affected area will be sealed and contained from the rest of your property.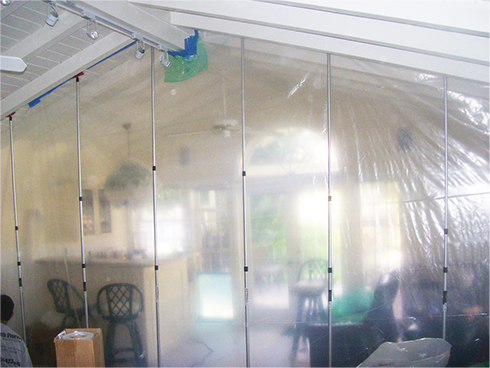 Containment wall built for mold remediation and mold removal, sealing off contaminated area and protectiing rest of the property.

PACKING: Contents and furniture may need to be relocated from the work area.
Equipment Placed: Dehumidifiers and air scrubbers will be placed inside (and possibly outside) the contained area to regulate the humidity and clean the air.
3. Our equipment is noisy and will run 24 hours a day.
4. Daily access to your property is required and a lockbox can be placed for convenience.
EXPECT THE UNEXPECTED
"I thrive in dark, humid places and very good at hiding.
The extent of the damage I can do is not always visible.
If you find me in places you didn't see before your project started, your scope of work will need to be discussed, adjusted and estimated accordingly.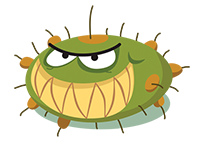 Mold Remediation – Phase III

Demolition: Contaminated building materials (such as drywall, baseboards, flooring, or cabinets for example) will be safely removed and discarded offsite.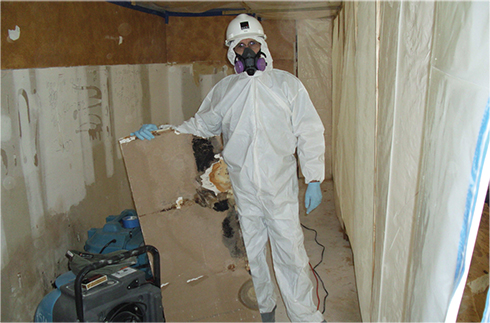 Mold remediation process taking place in containment area.

HEPA Vacuuming: Walls and surfaces will be vacuumed with a HEPA-filtered vacuum.

Microwash: Surfaces within the containment will be wiped down with an antimicrobial solution.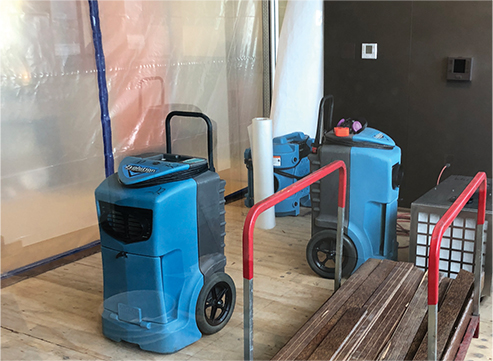 Mold remediation equipment in containment area.

Final Cleaning: We will perform a final micro-cleaning to remove mold spores at the microscopic level and fogging of the contained area with an antimicrobial solution.

Equipment-Only Day: Once mold remediation has been completed, our equipment will run continuously for 24 hours to clean the air. Access to the area will be limited to our mold specialists.
"South Florida Water and Mold is hands down the BEST company to use wether it's a water damage, mold job or anything really as they are also licensed general contractors. They are clean and keep equipment organized and out of the way so we can continue our everyday routines without the stress and hassle!"

-Alyssa B
"We had a water damage and it ruined our floors and bathroom vanity. We hired Lisa and Pat, they helped us with the insurance and met the adjusters to make sure we got paid for everything. They installed new flooring and made all the repairs, came out beautiful. Would recommend them again and again, great company!"

– Jason M
"I have worked with this company many times and I can't say one bad thing about them! I help coordinate companies and owners, I highly recommend this company, everyone is always so helpful, polite, and professional. They are compassionate with the residents and about the job they do. They go above and beyond."

– Denise T
Mold Remediation – Phase IV

Clearance Testing/Inspection will be conducted by a licensed mold assessor within 48 hours of the mold remediation completion. The air quality results are available within 24 hours from the test date.
Mold Remediation – Phase V
CLEARANCE SUCCESS AND PROJECT COMPLETION

Successful test results means you have clearance to reconstruct the affected area(s); we will schedule to pick up the equipment and remove the containment.

Your mold remediation is now complete, you can breathe easier, but you are now left with walls opened, baseboards and flooring is gone, cabinets are missing… what do you do and who do you hire to reconstruct?
The answer is South Florida Water and Mold Restoration.
Mold Remediation – Phase VI
Our Saying is….One Call Does it All! We are a Full Service, State of Florida Licensed General Contractor with a design showroom and shop at home services available.
Over the years, we have helped many happy clients restore their property after a water damage/flood, mold remediation or fire. We are experts in restoring your property as quickly as possible.
RECONSTRUCTION AND REMODELING
A Few More Steps and Your Finished!
Scope of work: Let's determine the work you want us to perform after the mold remediation is complete.
Selection of Materials. We can guide you thru your material choices for flooring, cabinetry, bathroom tile, paint colors etc and offer design services to make this fun!
Budget. We understand that everyone has a limit on what they can spend. We'll will work with you to focus on the best way to allocate your budget. Want more? Use our flexible payment options to get what you want.
Our experience, credentials and skilled training will give you piece of mind that the quality of work will be done professionally, on time and within budget without having to work with multiple contractors.
BE OUR NEXT HAPPY CLIENT AND ENJOY YOUR MOLD FREE ENVIRONMENT!